EcoVegEvents Calendar

In Memory of Polly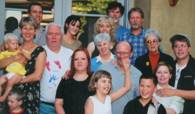 Polly 2001, Veal Protest, Headwaters Protest, Vatican's policy protest, at KFC protest near death, Polly family: children, grand + great grand children.
In Memory of Polly Strand's Activist Life:
Polly Strand who worked tirelessly for the innocents -- animals, environment, children and disenfranchised humans -- passed away on November 5th 2003.
Polly was born on July 22, 1932; during her lifetime she lived primarily in Massachusetts and the last 35 years in Northern California.  She is survived by her three children, grandchildren, great-grand children and husband.
Polly was diagnosed with breast cancer 16 years ago and the cancer metastasized early on; a good diet (vegan) and good life style allowed Polly to live much longer than many with the same pathology.  She was actively attempting to make a positive difference in the world up until the last week of her life.
Polly's good deeds were diverse and span at least 45 years and are far too numerous to completely list.  I will attempt to list the ones I can remember chronologically along with a little about her life along the way.  Since Polly's life was so full, this memory is principally about one aspect of Polly's life, her activism. I am leaving out Polly's family life -- her children will tell you she was wonderful as a mother.
Polly had many talents and skills and she applied them to her activism for the innocents.  She was a graphic designer, artist, protest song writer, poet and prolific letter writer (many appeared in major newspapers), book reviewer, architectural designer (both her own residents and many retail stores), and a CEO with many hats in a small retail store chain that she owned.  She was also a runner for about twenty years of her life and ran the original marathon route in Greece when she was 48 years old.
Her life style was consistent with her beliefs including being a vegan primarily because of the pain and suffering that animals used for human consumption must endure.
Polly grew up in a relatively economically poor family living in Worcester, Massachusetts.  She was raised a Catholic and at the time observed many sad hypocrisies in the church; later, after reading Thomas Paine's "Age of Reason," Polly decided to become a free thinker.
During her high school years she worked for a local lawyer as a general office assistant.
After graduating from high school she got a job working for the Office of the Dean of Harvard Law School and later was admitted to Harvard University in a special program that was slowly introducing women into the student body at Harvard (Harvard was an all male campus in that era).  She studied psychology.
Polly was a volunteer then later a paid counselor for one of the early version of Planned Parenthood in Boston, Massachusetts (at the time access to condoms was not even allowed in Massachusetts).
She was also a founding member and on the Board of Directors of the Massachusetts Memorial Society (set up to encourage low cost funerals and advocate for reform in the funeral business).
In 1960, Polly started a chapter in Sudbury, Massachusetts of the New York Herald Tribune Fresh Air Fund, which allowed children from the poorest parts of the inner city in New York to spend the summer in nice homes in semi-rural areas.  Polly was awarded Citizen of the Year in 1965 by the Elbanobscot Foundation for her good work and for housing so many under privileged children over the years.
Polly moved to Marin, California around 1967-68 and besides starting a retail store became involved with the protest against America's involvement in the war in Vietnam.  She was also an active member of the Peace and Freedom party in Marin.
In the 1970's, due to hard work, Polly's business expanded to a number of retail stores.  She also wrote one of the early self-teach books on macramé jewelry, published nationally and in Europe. All her author's fee was donated to Planned Parenthood.
In the mid 1970's she and a female physician friend started a women's running group that sponsored women running events; the group's name was Female Organized Running Events (FORE).
During the late 70's and early 80's Polly became intensely involved with music and song writing (in addition to being an officer and manager in her own company).  She played the guitar and piano and wrote a number of romantic and protest songs.  One of her romantic songs was published and recorded in Japan (long story).
Polly was a charter member of the original MS magazine and its foundation and she made a major effort to unhook the magazine from tobacco revenue. This included having a personal meeting with Gloria Steinem where she told Gloria that MS accepting cigarette ads would be like Ebony accepting ads from the Klu Klux Klan.  At the time and currently, young women are the most frequent new smokers plus Jesse Helms (powerful Senator hostile to women's rights and reform) owed his Senate tenure to the tobacco industry.  Eventually MS stopped the tobacco ads and changed format to be insulated from corporate influence.
Polly had for many years lived in Berkeley, California and received a certificate of Social Services through the University of California at Berkeley (UCB) extension.  In 1987, she attended an environmental impact report (EIR) hearing on a proposed very large, mainly underground UCB project called the Northwest Animal Facility (NAF).  Polly was primarily an observer at that hearing; there were many impassioned speakers from the animal protection and environmental community.  Some of those speakers opened her eyes to the profoundly cruel and unnecessary animal experiments that were taking place on campus and would be increased with this new large facility.  This launched Polly's lifelong, intense involvement in animal protection issues.
In an attempt to stop the NAF, which Polly called the "Northwest Animal Dungeon," Polly lobbied all the appropriate legislatures and was a pillar person in finally getting State Senator Tom Hayden to hold a special Senate hearing. Senator Hayden said more mail was generated on that project than any other in his memory (mainly against).
To make the long story of the NAF battle shorter, the moneyed interests eventually prevailed; ground for the facility was bulldozed (along with 33 of some of the rarest trees in the State) and a more than hundred foot construction crane with a large cab on top was placed on site to start construction.  Polly helped some young brave activists occupy the crane for many days making daily national and international news.  At the same time, Polly financed a law suit against the flawed EIR that allowed the facility to break ground (In Defense in Animals (IDA) later joined the suite).
Eventually UCB agreed to stop construction until the court's initial ruling. They also agreed to drop charges against the construction crane occupiers if they would come down.  The first court ruled in UC's favor.  Polly and IDA won on appeal, but the construction had already moved forward so the court only fined UC (a relatively large amount), but let them continue the project.
After the NAF struggle, and with the help of UCB Professors Neilands and Heimpel, Polly formed a campus group called BFAST (Berkeley Faculty and Staff to Advance Alternatives to Animal Research). BFAST had many members at its peak.  BFAST started a continued tradition of awareness of the animals' plight on UCB's campus. Polly continued reform efforts at UC Berkeley.
Polly was later arrested along with other activists for occupying the UCB lobbyist office in Sacramento.  She gave testimony at a number of California State Assembly and Senate hearings and appeared on TV in debates.
A few of Polly's other animal protection involvements:
In the late 1980's, Polly organized a well-attended press conference with good local TV coverage in which Cleveland Amory (Fund for Animals, plus best selling author at the time) and Dr. Nager (well known local ophthalmologist) presented UCB researcher Professor Van Sluyters (in absentia) with the "worst researcher of the year" award. For years, Van Sluyters sewed kittens eyes shut and spun them in a barrel and then made vision measurements.
Throughout the 1990's, Polly lobbied and testified before the State Legislature about the University of California's misuse of tobacco tax funds on redundant and useless research including much painful animal research on smoking.  Polly was a member of GASP (Group Against Smoker Pollution), which made a major effort to get the tobacco tax passed and smoking removed from California restaurants.
In October of 1991, Polly got world famous environmentalist David Brower to give a well attended (mainly by environmentalists) talk at UC Berkeley on animal rights.  At the time, many environmentalists did not realize David also was relatively strong on animal rights issues. Also, around the same time Polly's house in the Berkeley hills burned down in the huge Oakland-Berkeley firestorm of 1991.
Along with her friends, Lisa, Barbara and Dagmar, Polly was a founding member of the South Coast branch of the Mendocino Coast Humane Society (now Redwood Coast Humane Society) and provided a foster home for many cats on the way to adoption.  Additionally, Polly, along with her friend Sheila, played a significant role in a successful reform election for the Inland Mendocino Humane Society resulting in better care for the shelter's animals.
Polly was one of the early advocates against hormone replacement therapy (HRT) for women. She was especially opposed to Premarin and Prempro (derived from pregnant horse urine involving great cruelty) and she appeared in the Fall 2002 issue of PETA magazine, "Animal Times," on this subject.
Polly was also a pillar activist in PETA's more than year long campaign to get Burger King Restaurants to force their meat suppliers to comply with USDA guidelines for animal care and housing.  At 68 years old, and with very active breast cancer, Polly and a few activists occupied the roof on Burger King in San Francisco.  The fire department had to remove Polly and she was arrested and spent the day in jail. The press covered the event.  The next day, the corporate office of Burger King agreed to require their suppliers to adhere to the guidelines.
In May of 2002, Polly's breast cancer metastasized to her lung, which was full of fluid. It looked like her life might end soon. She decided to have a protest for the animals' benefit followed by a "Bon Voyage to Life or Get Well" party.  About eighty activist friends attended the demo in front of Polly's neighborhood Safeway grocery. The protest theme was a PETA campaign to get the huge grocery chain to force their meat suppliers to conform to the guidelines for animal care and housing.  At the party after the demo everyone was given a raffle ticket.  Twenty prizes of $240 each were awarded to the raffle ticket holder's favorite group, which sometimes was that activist's own group.  About a week after the demo Safeway, agreed to PETA's demands.
Shortly before Polly died, she attended a KFC demo in the same vein as the Safeway and Burger King campaigns.
Everywhere Polly went she carried literature in her purse on animal and environmental protection and always wore a "Meat Sinks" button.  If anybody commented on her button, she would give them one plus some literature.
A few other causes Polly embraced and acted on:
Polly was a counselor at the Women's Cancer Resource Center for a number of years and wrote a couple of book reviews for the Breast Cancer Action (BCA) newsletter.
Polly and Neal Bernard, M.D. from Physicians Committee for Responsible Medicine, were speakers at a press conference on Breast Cancer and Diet that was carried nationally by CNN.
She was a long time activist and supporter of NOCIRC (reform on the over use of circumcision).
She functioned as the volunteer West Coast Producer for the public affairs program Walden's Pond on WBAI radio in New York and helped get many enlightened guests on that program.
When the Pope made a visit to San Francisco in the 1980's, Polly orchestrated a well attended, funny and theatrical protest principally over the Pope's anti-birth control and anti-gay policies. These included protest songs she wrote accompanied by a street accordionist plus costumed participants.
In 1992, Polly attended a protest against George Bush Sr.'s ten thousand dollar a plate fundraiser in Orinda, California, where Polly lived at the time. One TV news program covered what happened somewhat accurately … CEO (Polly) arrested while attempting to return home after Bush protest in her town.
She helped get the Green Party on the California ballot and was the major donor to fund an early statewide convention held in Oakland; she supplied all the vegan food for that convention.  She was also elected to the first Green Party County Council (central committee) in Contra Costa County.
Polly was a major participate in five-term Berkeley City Council member Dona Spring's election. She contributed most of the signs and graphics on the literature and was the major fundraiser in Dona's first election.  Dona is vegan and the best environmental, animal protection, real democracy and peace vote on the council.
In Mendocino County, Polly was active in sustainable forestry issues and attended many hearings and protests in Humboldt and Sacramento counties on this issue as well.
Polly was a major donor to the good work of Mark Berman, Julia Butterfly Hill and Gar Smith at Earth Island Institute. She also participated at Mark's protest against Norway's whaling and at Headwaters old growth forest in support of Julia.
She also worked to limit toxics including a number of efforts on Dioxin.  If you see the nice logo of the Toxic Links Coalition's shirts, it is Polly's design. She also designed the shirt "Fur is Worn by Beautiful Animals and Ugly People" sold by some animal groups.
Polly participated in many anti-war protests including many in 2003 even though it was hard for her to breathe due to advancing cancer.
She campaigned to reform AARP;  her group was called "Gray Guerillas," which said "AARP don't you know that women over 50 have gray hair just like men?"  At the time, most of the ads in Modern Maturity showed gray or balding men but the women models had dyed hair.
These Gray Guerrillas' flyers and small ads were run along with her "Let's see fewer Geezers paired with Babes as love interests in the movies."  As Polly put it, "Grow-up Hollywood and ad agencies, pair same-age appearing people in romantic roles."
Polly also had a reform effort battle going with a local public TV and radio station of which she was a member and supporter. She produced a small ad called "KQED Ads Stinq" – which had an interesting graphic of a women with a cloths pin on her nose protesting that corporate sponsors' announcements were becoming longer and more like traditional commercials.
Polly befriended many people. Very recently a couple of good hearted young women who, though they knew her a short time, thought of her as a mentor and friend.  I recently began the process of shutting down Polly's email account and discovered a recent email sent to her two weeks after her death. The email was from one of those young women. It says much about Polly's strength of character.  Below is that short, poignant message to Polly after her death.
With Love,
Lindsay, Polly's partner for the last 26 years.

--- Original Message --Subject:        Love to you, Polly Date: 19 Nov 2003 From:  Tweed Conrad
To: Polly Strand
Dearest Polly,
I don't expect anyone to be checking your email now, but perhaps you will get this message psychically! I needed to write to you to tell you how special you were to myself and many others. I always had you in the back of my mind as a personal role model and example of someone totally devoted to the cause of helping all beings and being selfless and a tireless worker for humanity.
You will not be forgotten!
I am sending you so much love on your journey - I am positive that you have earned a spot in a higher level due to all of your heartfelt work here.
Baraka Bashad. (May the blessings be.)
Love,
Tweed